A Christmas tree without gifts is not a complete tree … is it? Well, let's make a few. We must be generous and surround it with bright colours!
I suggest red, green and blue paper prints. You can find these in "downloads" where there is a template for making square boxes.
How are the gifts made?
Material needed:
patterned paper
a template for making boxes
scissors or cutter
two small rulers
stick of glue
a toothpick
coloured ribbons
stars
small pieces of glass
With a cutter and a ruler or with small scissors with a fine tip it will be easy to cut them out.
Once trimmed, we use two rulers to make the folds, thus making it easier to fold them inwards. To stick the tabs, I used a stick of glue and a toothpick.
And to decorate the boxes … power to the imagination!
Yes now! Let's put everything together.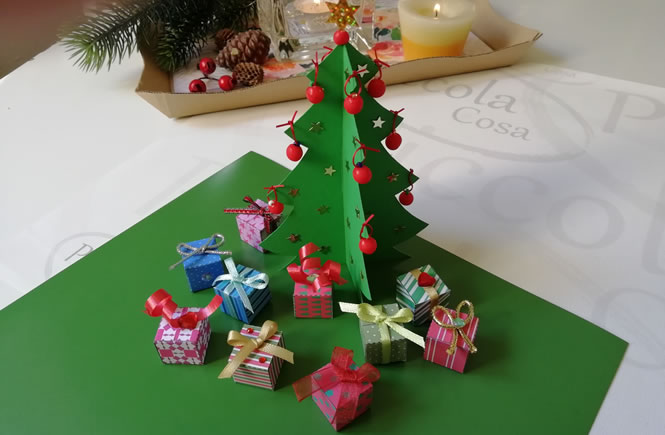 And then we place it there, in the corner of our home that we want to decorate.
My pastry shop is now overflowing. The cakes compete in brightness and colour with the tree and the gifts. I can hardly wait to open them!
But patience … It's almost time!
I wish you the best of gifts. That you spend a very … HAPPY CHRISTMAS!
I will be happy to get any pictures of your Christmas decorations. Who'll send them?
See you around with new ideas!